I rarely make phone calls via a cell phone.  It just so happens that I don't enjoy talking on a device that's not attached to a cord.  It's certainly more convenient to go wireless, but you give up comfort and call quality by doing so.  
Nowadays, using a cell phone for the calling feature is actually secondary to how most people use the phone.  Texting, wireless web browsing, photos and applications are features that get a lot more attention then using the phone to make a call.  It's probably no surprise that when people are searching for or reviewing cell phones, call quality is hardly high up on the requirements list.
That's why the Apple iPhone has sold incredibly well despite the fact it did so poorly in making phone calls!  It's no secret that the phone has had its share of problems whether you are calling from a 3G iPhone or you have the latest iPhone 4 on AT&T.  I suspect the newest iPhone on Verizon will still have its share of dropped calls as more devices come online and compete for airwaves.
Despite the well publicized calling issues with the iPhone, it's still the smartphone to beat when it comes to it's user interface, wide range of quality applications and evangelical fan base.  The iPhone is certainly the phone my wife and I would prefer to have since it has all the features we want and we could live with a few dropped calls.  
There's one significant barrier to us actually getting the iPhone; the monthly service fees.  
Can we afford the iPhone monthly service fees?  Absolutely.  Do we want to pay the outrageous monthly service fees?  Absolutely not!  I simply can't bring myself to pay nearly $100/mo. for voice and data services or nearly $200/mo. combined for the both of us.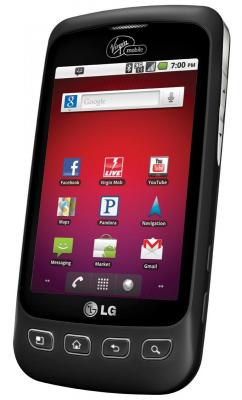 Therefore, we both have service from Virgin Mobile which costs almost a forth less per month than the monthly costs to have an iPhone.  For just over $27/mo. including tax ($57/mo. combined for the both of us), we get 300 minutes each (which is plenty since we don't talk that much on the cell phone) and unlimited text and data.  In addition, we aren't formally locked into a contact!  
We are paying the same amount now as what it used to cost just for her phone on Verizon and that didn't include unlimited text and data (both were charged on a per usage basis).  We did pay more for the actual phone compared to an equivalent phone under another carrier's contract, but I've never had a problem paying up front for the device itself.  If I could use an iPhone on this network, but had to pay $500 to $600 for the device, I wouldn't blink twice about it.
We are very happy with the service from Virgin Mobile.  They've managed to lock us in without a contract due to quality service and affordable payment plans.  The unlimited data service makes it convenient to catch up with my online reading and sometimes prefer reading on it rather than opening the laptop or borrowing my wife's iPad. 
Because I find myself using it more, I'm at a point where I'm outgrowing the phone I have now and looking for something with a better screen and more features.  Since I'm not committed to a contract, it's no big deal to just buy another phone.  Thankfully, Virgin Mobile now offers a couple of Android Smart phones.  
Comparing the reviews to the other Andriod option they have, the Samsung Intercept, it seems the LG Optimus V is a much better phone.  Kevin, youtube user ivarneli, digs into a side-by-side comparison of the two phones which shows the LG Optimus performing much better in real world situations.
Still not at the caliber of the iPhone, but comparable in features, I'm learning toward getting the LG Optimus V.  It's wifi access, larger screen and better interface should make it much more convenient than the LG Rumor Touch I currently have when it comes to the casual reading I enjoy. 
When you can't get the phone you really want, there are certainly many affordable alternatives.  And should you (or I) bring yourself to not minding paying crazy high monthly fees, then you can make the switch without fear of having to break a longterm commitment.